Newcastle Hospitals Charity Online Shop
Buying from our online shop is just one of the ways you can help as 100% of profit is passed back to the charity.
We're delighted to showcase a range of products in our online charity shop, the proceeds of which support our fantastic hospitals and services.
Our range includes our Tote unique bags made in collaboration with Fenwick, Newcastle Hospitals Charity pin badges and our Hattie the Hyena book.
You can find out more about the work that we do at Newcastle Hospitals Charity and how you can get involved by visiting our website here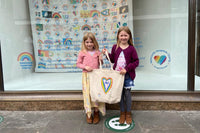 Fenwick Shop Window
Our heart themed charity tote bag which was designed by Fenwick, was launched at the famous store alongside a special one off window display celebrating our NHS colleagues at Newcastle Hospitals. The art work by their children was entered into a competition and was featured on this beautiful quilt in the window. The winning art work is featured on our tote bag.
Buy now
We love to hear your feedback
Thank you all so much for our face coverings. I can't tell you enough how much we've loved having them and how it makes us feel so much safer when out now. Our son was never fond of the idea at the very beginning but he loves the feel on his face and he can't wait for winter to keep his face warm he says.

Stacie Parsons
"The tote bags are again an absolutely fantastic idea and I must thank the management and creative teams at Fenwick for working with the Trust to deliver this. We can hopefully raise a considerable amount of money for our charity."

Dame Jackie Daniel